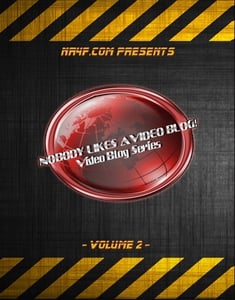 $

9.99 - On Sale
And we're back! NR4F.COM Presents: Nobody Likes a Video Blog Volume 2 on HD DVD! This volume features all 6 original episodes (Each episode ranges from 12-15 minutes each) + a Never before seen episode that can only be found on the dvd! Thats not all!
Nobody Likes a Video Blog ALWAYS has a celebrity guest! And this season was no different! Celebrity guests include:
Bizzy Bone
Bizarre (formerly of D12)
Snoop Dogg
Iron Solomon
Mike Smith ("Bubbles" of Trailer Park Boys)
Hopsin
DJ Hoppa
Madd Illz (Founder of GrindTime - Worlds biggest battle league)
Tom Green
Kool Keith
Axe Murder Boyz
King Gordy
AND MORE!!
But thats not all!
This DVD Also features Bonus content in addition to the extra episode!
*Nick Boots vs. Reese (Battle) Judged by Iron Solomon & Madd Illz
* Mikey D (accompanied to the ring by Rude Boi) FWF wrestling Footage
This DVD extravaganza is filled to the brim with hilarious behind the scenes footage, instores, celebrities, and the simply hilarious antics of NR4F. Definitely not something to miss!!
Approximate Run Time: 2 Hours